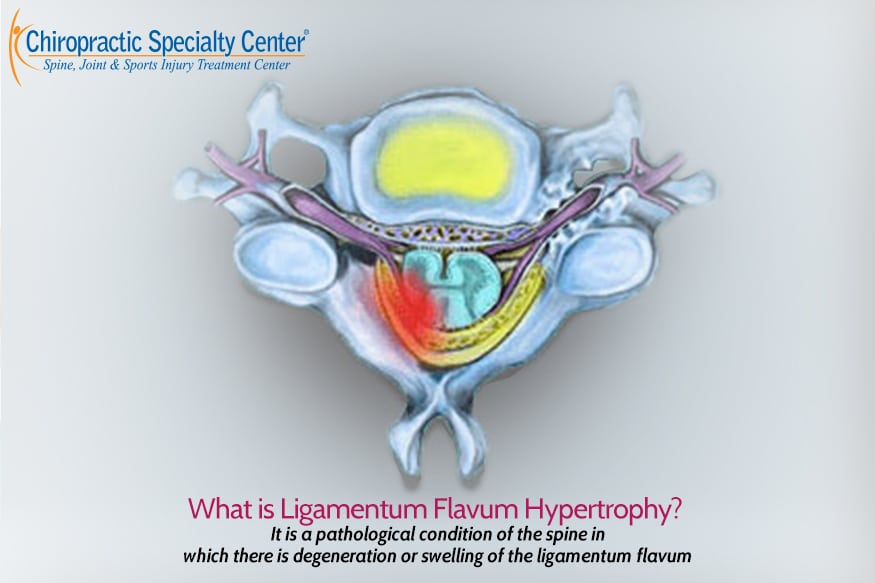 HYPERTROPHY OF LIGAMENTUM FLAVUM
Ligamentum flavum hypertrophy is a condition in which the ligamentum flavum (LF) thickens due to stresses placed on the spine. With hypertrophy, ligamentum flavum (LF) increases in thickness (size). The thicker it becomes, the higher the risks of spinal nerve (foraminal stenosis) or spinal cord compression (spinal stenosis). In short, a thicker than average ligamentum flavum (LF) decreases the room or available areas a nerve root or the spinal cord has. Compression of spinal nerves or spinal cord can produce varying degrees of pain and even disability. Contrary to the common belief, a hypertrophied ligamentum flavum (ligamentum flavum hypertrophy) can be treated non-surgically. In this article, we will provide ample information about ligamentum flavum hypertrophy: what it is, how it gets damaged, and what are your non-surgical treatment options. Let's began our review with the description of the ligamentum flavum.
What is Ligamentum Flavum? 
Ligamentum flavum (Ligamenta Flava or yellow ligament) is highly specialized. It is an extremely elastic ligament, which connects the spinal bones through its two laminae, articular joints (facets and pedicles) attachment points on each side of the spine, from C2-S1. But, what makes it unique is the fact that it functions like a muscle as well. The muscular function of LF enables the spine to realign following forward bending motions.
In the cervical spine or the neck, Ligamenta Flava (ligamentum flavum) is thin, broad, and long. However, it is thickest in the mid back and lower back regions of the spine. This highly elastic ligament serves to hold an upright posture, especially following flexion (bending) in the neck or low back. Its' abundance of elastin affords the increased elasticity of this ligament. Thickening of ligamentum flavum is common among gym goers and those involved in heavy lifting or repetitive movements.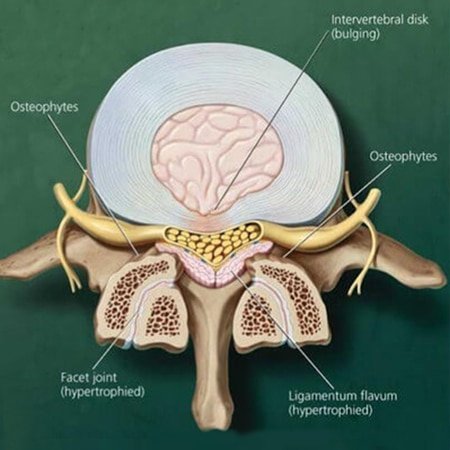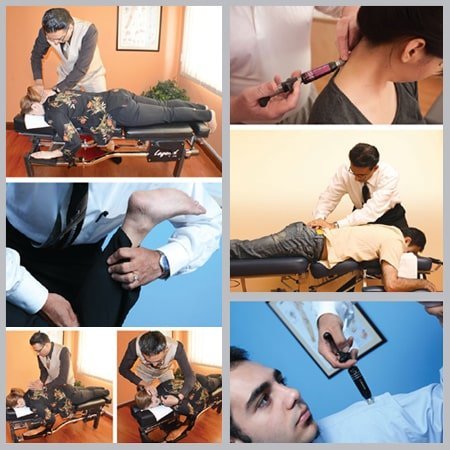 What is the Function or Purpose of Ligamentum Flavum (LF)? 
Elastin, which we will discuss in upcoming sections, provides ligamentum flavum (LF) its significant elasticity. The elastic nature of LF is critical to the maintenance of an upright or a standing posture. LF is a ligament that functions much like a muscle. The muscular component allows it to have contractibility. The contractile ability of LF assists in the proper realignment of the spinal joint after flexion or forward bending. The ligamentous characteristics of LF prevent excessive gaps or separation between the spinal bones. To understand these better, let's look at LF attachments on the spine.
Is It Possible to Treat a Thickened Spinal Ligament with Non-Invasive Conservative Treatment? 
The short answer is YES. Conservative treatment of ligamentum flavum hypertrophy is effective when provided by a team that has an expert understanding of the spine, and associated conditions. Chiropractic Specialty Center® uses specialized devices, methods, and systems of care that are significantly superior to the traditional techniques of non-invasive treatments rendered by most chiropractors or physiotherapists.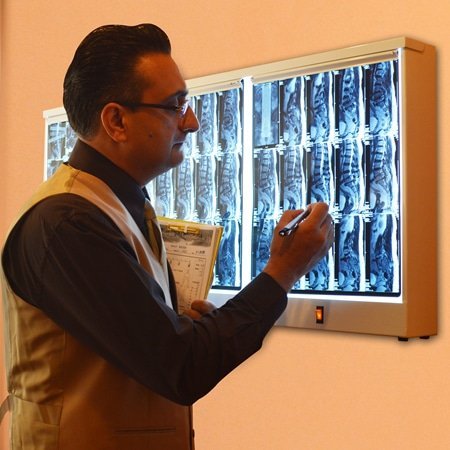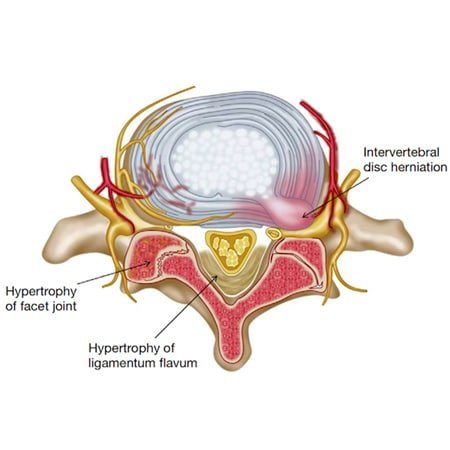 What is Elastin? How does it Impact Ligaments in the Spine?
Elastin is said to be 1000 times more elastic than cartilage. In basic terms, it is a protein in elastic connective tissues such as ligaments, tendons, muscles, and spinal discs. It enables our connective tissues to regain or "snap back" into position or their original shape after physical stress or when stretched. In addition to the skin, spinal discs, ligaments, tendons, or muscles, it is found abundantly in the heart. Blood vessels, lungs, and intestines also have elastin. Therefore, it is a critical protein in our bodies. How does elastin impact our spine?
The Elastin and Cartilage Roles in Ligaments that Surround the Spine
According to numerous research articles, a hypertrophied LF is the result of mechanical stresses in which elastin fibers fragment and calcify. Interestingly enough, several new pieces of research also indicate collagen deposition. In healthy LF, the elastin fibers form a complex meshwork. A meshwork is defined as a structure that is interlaced or interwoven. When the spine is subjected to excessive stresses, the meshwork of elastin fibers are broken down and fragmented. The body responds to this fragmentation by increasing collagen content in LF.
The combined impacts of elastin fragmentation, collagen deposition (collagen Type IV), and the eventual calcification of damaged elastin and collagens are the leading factors in the development of ligament flavum hypertrophy. Chiropractic Specialty Center® provides the best spine and joint treatments in Malaysia. Our treatment programs include targeted care that fixes the actual damage. In addition to the care you get, we will recommend nutritional supplements and vitamins for patients that have damaged soft tissues.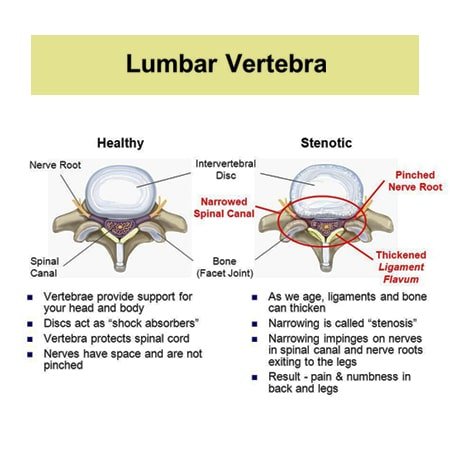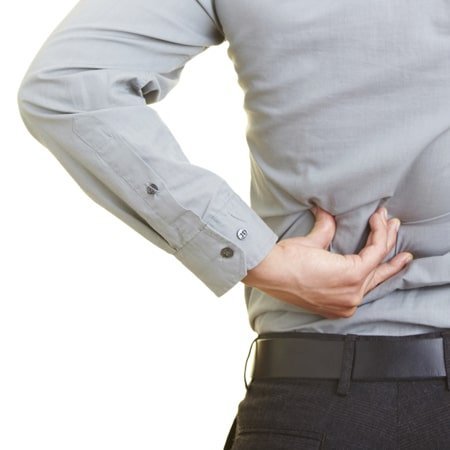 What Causes the Hypertrophy or Thickening of Spinal Ligaments?
The actual cause of LF hypertrophy is related to elastin fragmentation, collagen type IV deposition, and calcification of elastin and cartilage. In this section, we will discuss stresses and activities that accelerate LF hypertrophy. Hypertrophy of ligamentum flavum is said to be an age-related disorder in which there is a decrease in elastin-to-collagen ratios in ligamentum flavum. Although often seen in the elderly, it can happen at any age. The leading cause is neglect of minor injuries.
What are Symptoms of a Thickened Ligament in the Low back or Lumbar Spine?
Ligamentum flavum hypertrophy symptoms can vary depending on the severity of condition and location or hypertrophy or thickening. Initial stages of hypertrophy are relatively asymptomatic (cause no pain), but its progress can rapidly become severe and even disabling. Ligamentum flavum hypertrophy in the low back (lumbar spine) produces sciatica-like symptoms. Sciatica is descriptive of symptoms of pain (leg pain) along the course of the sciatic nerve. The sciatic nerve emerges from the lower lumbar segments and provides nerve innervations to the buttocks, thighs, legs, and feet.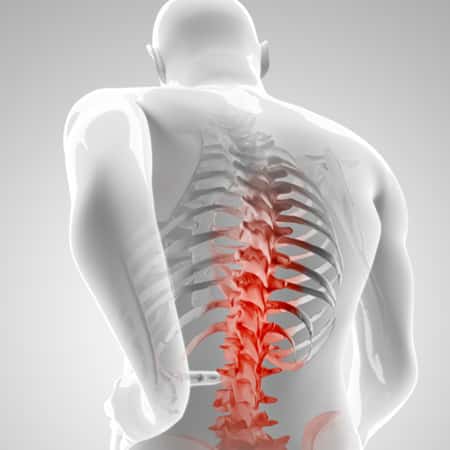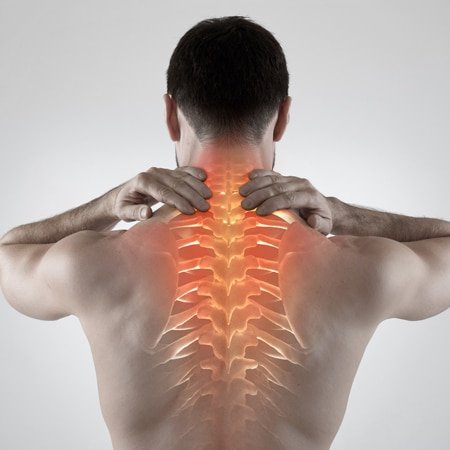 What Symptoms are Present when Ligaments in the Neck or Cervical Spine are Thickened?
Thickening of Ligamentum Flavum (LF) can occur at any point in the spine. We have already covered the most common site: the lower back. Now, let us look at the second most common place, or the neck, for ligamentum flavum hypertrophy. The neck is the second most common site for LF overgrowth, but it is critically dangerous. A severely thickened or hypertrophied LF in the neck can cause severe spinal canal stenosis or myelopathy. Severe canal stenosis in the neck can cause severe symptoms due to myelopathy. Myelopathy is severe compression of the spinal cord that often results from trauma, degeneration, hypertrophy, or congenital disabilities. Symptoms or malfunction can be present from the neck all the way down to the feet. It can cause paralysis from the neck down.
Should Chronic Back Pain, Chronic Neck Pain Patients Avoid Steroid Injections?
Back pain, neck pain, and hypertrophied LF are mechanical conditions that result from accumulated daily stresses. Chronic neck pain and chronic back pain patients will always have some degree of damage or thickening in LF. Steroidal injections are an orthopedic surgeon's favorite injectable. They love to inject patients with steroids even though it has limited application and many harmful impacts. Perhaps the love for the injectable such as steroids stems from their years of training, education, and research centered around invasive methods.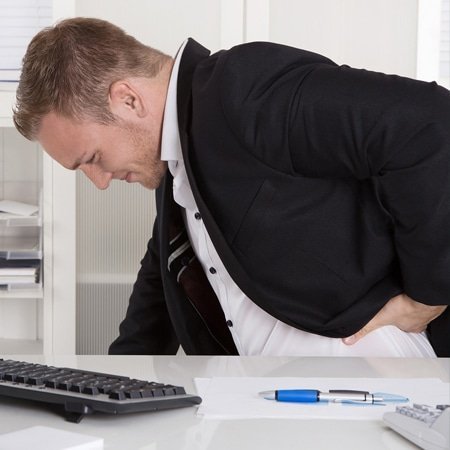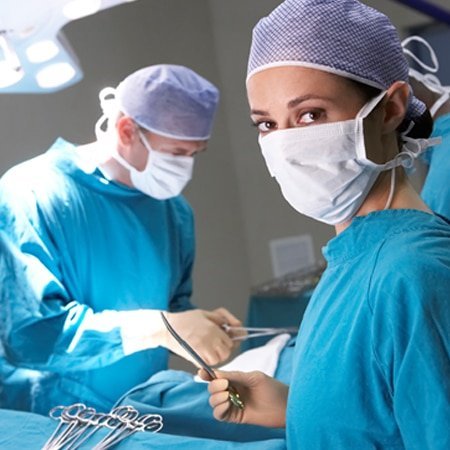 Should you opt for spine surgery for a Damaged Ligaments?
Spine surgery should be the last option. Spinal canal stenosis is a common condition in chronic neck pain and chronic back pain patients. The most common cause of spinal canal stenosis is hypertrophy of the ligamentum flavum. The second most common cause of spinal canal stenosis is a slipped disk. The third most common cause is bone spur or osteoarthritis. Having said that, the vast majority of chronic neck pain and back pain patients present with varying degrees of all three types: hypertrophied LF, slipped disk, and bone spurs. To complicate matters, multiple segments are involved in more than 90% of cases.
What is the Best Non-Invasive Conservative Treatment for Neck Pain, Back Pain, Slipped Disc, and Spinal Canal Stenosis?
Chiropractic Specialty Center® uses a proprietary system of spine care through an integrative approach backed with breakthrough spine-specific technology. This system of treatment is termed NSD Therapy®. NSD Therapy® (Non-Surgical Decompression Therapy) is provided through the collaborative efforts of clinical physiotherapists (physical therapists) and our researched-based doctors of chiropractic medicine. In short, NSD Therapy® is the combination of physical therapy, chiropractic, physiotherapy, rehabilitation, nutrition, and lifestyle changes. It is the most compressive non-invasive form of spine care.