Research-Based Chiropractic Enriched with Clinical Physiotherapy
Specializing in the treatments of neuromusculoskeletal disorders and injuries that include neurological conditions as well as the spine, joints and sports injuries.
Take care of your health through Chiropractic by our Clinical Research-Based Chiropractors
Chiropractic treatments provided in an integrative setting through a clinical chiropractor and physiotherapist will yield better results. The profession of chiropractic and care from a clinical chiropractor is relatively new to Malaysia. Over the years, the chiropractors and physiotherapists of Chiropractic Specialty Center® provided corrective treatments for neck pain, back pain, slip-disc, joint, and sports injuries as well as neurological disorders (stroke, MS or Parkinson's disease). In our centers, chiropractic is practice through holistic principles. In other words, we offer diagnosis specific focused treatments to restore balance and improve function. We accomplish this by identifying weakness and correcting them through chiropractic, physiotherapy, rehabilitation and advanced technology.
Our Doctors of Chiropractic practice hand-in-hand with our physiotherapists who use state-of-the-art technology when they treat spine, joint or sports injury. If you live in pain or have lost mobility and function, we can help. We have succeeded when others have failed. Contact us today for research-based clinical systems of Chiropractic and Physiotherapy for healthy active life.
Why Should You Choose our Chiropractors and Physiotherapists?
Our Clinical Non-Surgical Teams Use The BEST Scoliosis Management & Treatments Made Possible By Our Advanced Technology
By definition, a curve has to be greater than ten degrees for it to be classified as scoliosis. Diagnosis of a scoliotic spine is based on the age of a patient diagnosed with a scoliotic spine. Adult Idiopathic Scoliosis is descriptive of abnormal spinal curves in those aged 18 years or older. In our center, we offer scoliosis treatments through chiropractic, physiotherapy and advanced technology. Adolescent scoliosis is descriptive of curves in those between 10 and 18 years of age. Juvenile Idiopathic Scoliosis is the term for the same condition in children aged 4 to 10. If the patient is under the age of 4 years, the most appropriate descriptive term is Infantile Idiopathic Scoliosis. Chiropractic and Physiotherapy can be of significant help. Chiropractic care from us is enhanced with clinical physiotherapy and advanced technology. Therefore, the care you get from our chiropractor and physiotherapist will get you better faster.
Collaborative and Integrative Treatments for Back Pain Enhanced by Clinical Physiotherapists, Research-Based Chiropractors, and Spine Technology
Back Pain is the most common health problem in the world today. It is the number one cause of disability in persons under the age of 45. Back pain is a problem, yet many ignore it. The Chiropractors and physiotherapists of Chiropractic Specialty Center® are amongst the best in Malaysia! If you suffer in pain, visit them. They can provide treatments and targeted exercise programs for back pain and slipped disc.
Our clinical non-surgical experts are capable of treating even the most severe back pain or neck pain. The care you will receive from us is through collaborative means enhanced with breakthrough neck or back specific technologies. In short, you get better faster!
Advanced Collaborative Treatments enhanced by Physiotherapists and Clinical Chiropractors for the Neck
Neck pain is becoming the number one health issue today. Regardless of how tough you think you are neck problems can be tougher. Unfortunately, here in Malaysia, many that seek our help do so as a last alternative. While this is okay, we prefer to be the first and not the last option for people. It is so much easier to fix a mild condition versus one that has progressed for a long time. Chiropractic treatments combined with physiotherapy and advanced spine technology can help correct and repair even severe neck pain.
That is why Chiropractic physicians always recommend early diagnosis followed by targeted treatments. Technology, clinical physiotherapist, and a research-based chiropractor are still better to other forms of care you get. In Short, we offer faster recovery.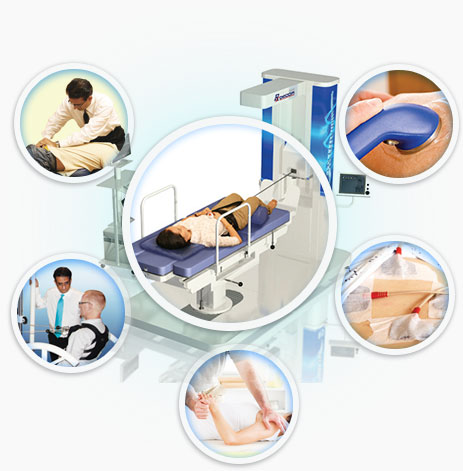 We Use the BEST Methods of Treatments and Technology
The Therapy devices and technologies that a Chiropractic Specialty Center® are superior to other centers. Our Advanced Spinal Decompression Therapy device is second to none. The results we achieve for the slip-disc patients is better than other methods. Aside from advanced skills and knowledge, breakthrough spine and joint technology is the main reason why we succeed when others fail. Technologies such as the RxDecom® (Advanced Non-Surgical Decompression Therapy Device), Flexion/distraction, DTS Traction, ESWT Shockwave Therapy, Intermittent full spine traction, ultrasound, and electro-stimulation are utilized to help reduce pain and swelling. Additional braces and supports may be prescribed to relieve pressure on your spinal joints.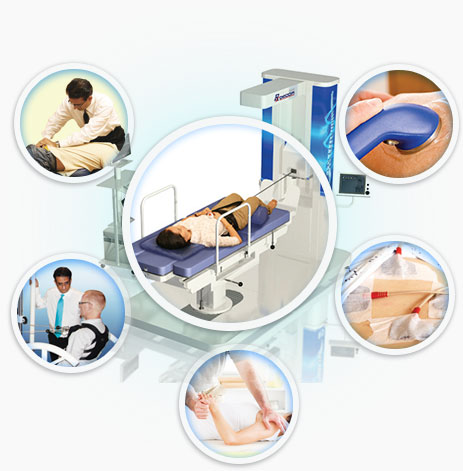 Our Clinical Team's Differences You NEED to KNOW
Chiropractic Specialty Centers® are heads and shoulders above the rest. We offer effective complementary and alternative procedures coupled with clinical physiotherapy not provided by others. We are always updating our staff with the most current research and training methods so they can better serve the public. Therefore, our practice of Chiropractic and Physiotherapy is second to none. Through our targeted means of care, we often get results when other centers fail. Visit one of our centers today for the best spine and joint treatments in Malaysia.
How to become a patient At the BEST Spine and Joint Treatment Center in Malaysia?
Chiropractic Specialty Center® is the premier spine and joint treatment center in Malaysia. The easiest way to become our patient is to call us. If you're the curious type, email us with your questions or concerns. We appreciate the opportunity to field questions. Clarify any health problems before you visit one of our centers. You may also call our main center at 03-2093 1000 here in Kuala Lumpur or any of our branches listed on our contact page. If you are the cautious type, read some of our published articles. Our articles section will provide you with additional information about our services and clinical successes.
Call us and ask to speak with one of our clinical team members. Once you get them on the line, talk to them about your health concerns. We are here to help as many as possible in their quest for a healthier life. Although we prefer appointments, we will also accept walk-in patients. Please do keep in mind that if you decide to walk-in, we may have you wait for a bit. Patients with appointments scheduled will have priority over walk-ins.
Call us now, Ask for a Chiropractor, and speak one-on-one with them Today
But if you walk in and have ONLY a question, let our front desk person know, and we will get one of our experts to answer your question. Our chiropractors and physiotherapists are the best. We have a very stringent recruiting policy and once we identify a qualified individual. Our clinical staff is enrolled them in our training course. They only join our team with their successful completion of our training program. We are very methodical when it comes to therapy and diagnosis. You will notice that when you step into a Chiropractic Specialty Center®. You don't need a referral from a medical doctor or anyone else to begin care. Our knowledgeable staff can field most questions over the telephone or when you come to your first appointment. We make the process of getting physiotherapy or chiropractic care from the best physiotherapists and chiropractors very easy.