Malaysia is one of the few countries that is blessed with abundant physiotherapists. However, clinical physiotherapy is still new to Malaysia. The need for clinical physiotherapy as an alternative to medication, injections, or surgery is on the rise. A clinical physiotherapist can help you recover without invasive procedures. Physiotherapy, as an alternative to invasive procedures (injection or surgery), is best in centers that do not offer invasive treatments.
Hospital based physiotherapists are limited in abilities, scope, and therapy devices. The majority of their training and continuing education concentrate on getting patients ready for surgery or helping them after surgery or injections.
Moreover, hospital-based physiotherapy facilities are limited in space. Most dedicate a few hundred square footages of space because therapists treat patients in the hospital room. The lack of space is also a factor in forgoing some of the more advanced physiotherapy devices. If you or someone you know requires clinical physiotherapy, we can help! Our methods and technology are superior to competing centers. Best of all, we aim at getting you better without medication, injections, or surgery.
Our Clinical Methods Of Physiotherapy Get Better Results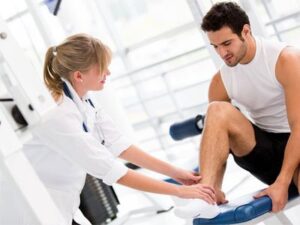 Some in Malaysia advertise the services of a clinical physiotherapist or physical therapist. But, yet most are unaware of what clinical physiotherapy (physical therapy) is, let alone have one working at their center or clinic. Physiotherapy or physical therapy is a noble profession. Physical therapy is a valuable curative method of care when rendered accurately and in a timely fashion.
For physiotherapy to improve recovery, the physiotherapist needs expertise, knowledge, and specialized therapy equipment. Unfortunately, there are far too many mediocre physiotherapy centers. Some with poor skills, and little to no clinical knowledge. You will be better not getting care from them altogether!
How To Identify The Bad & Poorly Skilled Physiotherapist?
We love, cherish, and honor the profession of physiotherapy. However, there are those among us that have poor skills, outdated knowledge, and no clinical acumen. Our goal is to expose them by giving you information on how to identify these individuals.
The most common error a poorly skilled or an outdated physiotherapist commits is treating an inflammatory condition with a "hot-pack." Hot-pack therapy, such as those provided through hydrocolator pads, hot towels, heating machines, or inferred lamps, are all standard physiotherapy treatment approaches in Malaysia. Unfortunately, many therapists misuse them!
Acute and subacute conditions such as a slipped disc, sciatica, intense pain, and pain that runs down the arms or legs should never get a hot-pack treatment at all! Putting a hot-pack on the neck, back, knee, or hip may feel better, but it will worsen an inflammatory condition. So, don't be misled by the soothing sensation the hot-pack provides. Just because something feels good doesn't mean that it is right for you! We have seen far too many cases of improper use of a hot pack. This is the most common mistake committed by the unlearned therapist.
Telltale Signs Of A Bad Physiotherapist
Other signs of a lousy physiotherapist include improper use of therapy equipment, namely the therapeutic ultrasound, aggressive manual procedures that aggravate the condition.
Additionally, some initiate the inappropriate use of exercise and stretching when it comes to patients with complicated conditions. Moreover, far too many have poor knowledge of anatomy. Over the years, we have interviewed hundreds of physiotherapists. We have even had therapists that could not find or name anatomical landmarks in the spine or extremities.
Far be it for us to judge, but often we wonder how some of these physiotherapists ever manage to get the certificates and degrees they hold. But, most important is that they give care and advice with insufficient knowledge or skills. That is scary and needs stopping. Perhaps there may be a need for national board testing to identify them before they are ever allowed to treat patients.
The Importance Of Corrective Physiotherapy By Clinical Physiotherapists
Chiropractic Specialty Center® respects and admires for the noble profession of physiotherapy is no secret. Physiotherapists who join our clinical team must be top in fields and able to meet our stringent prerequisites. Our directors carefully interview and test each applicant to determine the ones worthy of our patients. We assess potential therapists on their skills and knowledge. Once they have successfully passed our rigorous interview and selection process, they start our training program. Our physiotherapists are great at getting you better. Those skills and knowledge they have are the results of dedication to the art and science of physiotherapy.
Preparing a physiotherapist in our centers to fulfill the roles of a clinical therapist takes much work on our part, but more importantly, on our new team member. Our physiotherapy training manual alone is close to 500 pages. We are the only chiropractic and physiotherapy center in Malaysia that has a training center. Our training center is located in our main chiropractic and physiotherapy center in Kuala Lumpur (Malaysia). We launched our training center specifically to improve the expertise of all our clinical teams. The procedures, conditions, methods of care outlined in our manuals are specific to our systems of care. In short, our physiotherapists are better than others in Malaysia. So, you are in good hands when you get your treatments from our clinical physiotherapists.
Chiropractic & Physiotherapy Combined
Clinical treatment by our physios and chiros is an integral part of each of your therapy sessions. We aim to get you better as fast as possible, and that is where our clinical teams of physiotherapists and chiropractors come in. We specialize in the non-surgical treatment of the spine, joints, and sports injuries. Therefore, our clinical team's skills, expertise, and knowledge when it comes to neck pain, back pain, slipped disc, joint pain or sports injuries are better when compared to competing centers in Malaysia.
We are better because of our stringent recruitment and training programs. The treatments you get from us target the root-cause of issues discovered during your assessment. Unlike others, we painstakingly look into each case to identify the root cause of their condition. Once we have identified the cause of your pain or illness, we will plan a target-specific treatment plan. Our integrative methods of treatments, coupled with advanced non-surgical therapy devices, have significantly affected our clinical successes. When you get care from one of our centers, you can rest assured that the care you get is through the skillful hands of an advanced clinical physiotherapist in Malaysia.
Before a physiotherapist joins our team, he or she must meet our strict requirements. In short, to join our team, they must have mastered the clinical art of spine and joint physiotherapy. We adhere to our stringent rules because we want our patients to get the best possible physiotherapy and chiropractic services in Malaysia. We wouldn't have it any other way, and neither should you. Physiotherapy and chiropractic are better than chiropractic or physiotherapy. But, it is not just the principles of care that makes a difference, but also our knowledge, experience, and technology.
Clinical Expert Teams In Spine, Joints & Sports Injuries
In our center, clinical physiotherapists work side-by-side with our chiropractors. Our integrative methods of non-surgical care are different as it combines two distinct non-surgical care providers under one roof intending to get you out of pain faster. The actual difference comes from our therapists as well as from our chiropractors. We are proud of our clinical research-based teams who are driven to produce clinical successes even when others fail.
We spend lots of time finding better and more accurate ways of treating you. Therefore, we have made it mandatory for every physiotherapist and chiropractor to complete our in-house training program successfully. Also, we require all our clinical team members to research new and innovative therapy methods. In other words, your physiotherapists and our chiropractors are busy doing scientific research daily. We do not know of any hospitals, clinics, or physiotherapy centers that are as keen on being at the forefront of research and better methods of non-surgical care than us. So, put your trust in our clinical team's abilities. We treat you better! Visit us and compare us to others, and only then will you be able to see the world of difference between them and us!
Our methods coupled with our chiropractic care and targeted spine or joint rehabilitation have produced results even for severe cases.
There are thousands of physiotherapists (physical therapists) in Malaysia. Some are good, while others you do better to avoid! The difference between the good one and bad ones are great. It is in their skills, knowledge, and the facility where they work. Physiotherapy is an occupation that is dependent on knowledge, expertise, and therapy devices and equipment. Others do not match the skills, knowledge, and treatment technology of our center, and as such, our teams get the results faster!
Centers that meet these basic requirements will certainly have better results. Centers lacking in one or more of these will fail, and the patient is then re-routed to surgical intervention. So, just because physiotherapists failed to get you better, it does not mean that physiotherapy failed or that you need spine surgery. The shortcoming is often individually based or due to a lack of proper equipment for your particular illness. Based on our experience, it is often related to inadequate or outdated therapy devices or outdated knowledge.
So, if the care you have had has failed to provide the relief you need for an active life, visit us. We can help your recovery better than others. Best of all, our conservative treatment can help you avoid spine surgery. Physiotherapy treatments provided in most hospitals are an adjunct to invasive procedures such as injections or surgery. Rarely they succeed in getting patients better with the surgeon. Effective conservative treatment of spine disorder is best at centers or clinical setting where spine surgery is not a specialty at their premises.
Let our teams of non-surgical experts provide you with the best comprehensive conservative treatment for your spine.
In our centers, you will find qualified physical therapists that know and backed by the latest and most sophisticated treatment equipment in the field of spine, joints, and sports injuries. But, before a physiotherapist starts treating our patients, they have to complete our training programs. Regardless of the level of experience or education, all physiotherapists, we require them to go through our intensive training program.
Our goal is to be the best physiotherapy (physical therapy) and chiropractic center in the world. To accomplish that, we have continuous training and learning programs for all our clinical staff. Learning never stops; that is why our clinical team will always treat you with the latest methods of physical or modality assisted therapy methods. We aim to get you better without surgery.
Holistic Treatment That Fix & Repairs The Cause Of Pain
Our physiotherapists play a big part in our successes with our comprehensive scoliosis, back pain, neck pain, slipped disc, or joint pain treatments. Physiotherapists are not equal! Some are good, while others need much-needed improvement. These differences would be there even if they attended the same University. The difference between an excellent physiotherapist and a mediocre one lies in their skills and knowledge.
There is a noticeable difference when you get care from a clinical physiotherapist that uses modern therapy devices and advanced technology. Visit any one of our centers and compare the level of care you get from our physiotherapists, our chiropractors, and our technology and then compare us to others. The field of physiotherapy is a mixture of science and art.
To master the art of physical therapy, the therapist must have compassion above all.
Compassion is the precursor to mastering the Art. The desire to Help a fellow Human being must be innate. Those that are compassionate will learn the art relatively easy.
A physiotherapist that has mastered the art will easily be able to provide relief to his or her patient's neck pain, back pain, or slip-disc within a few short minutes. We call this the 5-minute rule. In other words, our physiotherapists are required to improve a patient's condition within the first 5 minutes of manual procedures. The 5-minute rule is possible only if your physiotherapist is skillful in manual procedures for back pain or neck pain. Every therapist knows the importance of muscle work, trigger point, and myofascial release. Some are just better at it. Those who are better are the one that excels in art.
The art of effective non-surgical treatment is directly linked to procedures rendered through devices and instrument.
Therapeutic Ultrasound is the most common therapy device in a physiotherapy center. Unfortunately, it is also the most misused equipment in most centers. Those with limited knowledge or skills usually apply too much pressure and, as such has limited benefits, or worse, cause more harm. We are the best chiropractic center in Malaysia for treatments of a slipped disc, back pain, neck pain, or joint pain treatments.
The science of physiotherapy is just as important. A physiotherapist must have enough knowledge and should keep updated as to new research and technology in the particular field they practice in or risk becoming a dinosaur. Health care is always changing. New research and innovative technology continue to improve healthcare. Those that read published studies and continually updates their knowledge attain superior results for patients they serve. Hence, our most significant difference from others.
Importance Of Keeping Up With Latest Developments In Physical Therapy & Chirorpactic
We are a research-driven center. Every clinical staff member is required to stay updated with the latest methods, technology, and systems of therapy. We demand this from all in our physiotherapy and chiropractic center in Kuala Lumpur.
In our centers, physiotherapists must write articles on back pain, neck pain, or joint pain treatments after having performed research on a given topic. Therefore, you get the best of research-based treatments from a physiotherapist at one of our centers. Our research-based clinical physiotherapists get better results when compared to others. Chiropractic Specialty Center® went through great lengths in recruiting the shining stars and then implement an encompassing training program to harness their skills for better outcomes.
The average physiotherapist will not accomplish what an appropriately trained spine physiotherapist can. The profession of physiotherapy has specific areas of specialty:
Cardiothoracic physiotherapy
Post-surgical physiotherapy
Pre-surgical physiotherapy
Physiotherapy specific for neurological conditions ( MS, stroke, and cerebral palsy)
Rehabilitative physiotherapy
Physiotherapy spcific for gynocological and obstetric disorder
Spine & Joint (musculoskeletal) physiotherapy
In short, the field of physiotherapy is enormous, and those that receive degrees in this area must have exposure in all aspects.
Due to limitations, the exposure they receive during their educational time is not focused on any individual areas. As such, upon graduation, they will possess general skills and knowledge in all fields. Those who desire to further their abilities and knowledge always focus on specific areas. While this may be true, it proves difficult to attain. That is where we come in.
Advanced Therapies That Improves Function & Mobility
Our physiotherapists combine their treatments with our chiropractors. Our physiotherapists and chiropractors work with you to prevent the loss of mobility before it occurs or assists you in overcoming movement disorders, which may be congenital, acquired through accident or injury, or are the result of aging or life-changing events.
At a Chiropractic Specialty Center®, our physiotherapists collaborate with chiropractors to treat spine and joint conditions, as well as sports injuries and scoliosis. Whether your symptoms are chronic, complex (challenging), ongoing, we can help! Our goal is to restore pain-free movement and help you maintain this improvement and manage your pain long-term, all without the use of any medication, surgeries, or injections. Our skilled physiotherapists and research-based chiropractors use a range of methods to achieve these goals.
These methods include hands-on treatment such as mobilization or manual therapy, which breaks muscle tension and adhesions and exercise therapy aimed at improving joint mobility, muscle strength and function, and posture. To complement the treatment, therapeutic modalities like ultrasound and IFT helps with muscle relaxation, pain relief, and increased circulation. If you are looking for a specialized team of chiropractors or physiotherapists to take care of your condition, please visit our contact and location page.
We pride ourselves in providing competent, clinical, honest, and professional treatments to help with your health concerns and overall well-being. Call or visit one of our centers near you today to get the best-targeted physiotherapy and chiropractic treatment in Malaysia. Our physiotherapists get better results than any other physiotherapist in Malaysia.