The Best non-surgical knee pain treatment and knee injury treatments
Effective None-Surgical and Non-invasive Knee Pain Treatment
Knee Pain Treatment by our Clinical Team will have you back to doing what you love most fast. Call us and experience knee pain relief you need today.  Our methods of care are through the combined efforts of a highly experienced team of Research-Based Chiropractors in Malaysia coupled with the efforts of our Clinical Physiotherapists. Visit one of our center for a second opinion on effective non-operative knee pain treatment.  We can help even if others have failed.
People can suffer from knee pain regardless of their age, weight or physical activities. Knee pain might result from an injury, fall, ruptured ligament or overuse of cartilage (firm tissue layer which acts as a cushion between the joints, preventing contact between the femur and tibia bone). Apart from that, the pain may also arise from gout, arthritis or infections.
Knee pain is common among athletes and the most common reasons for their pain is torn ligaments, cartilage or because of patellofemoral pain syndrome. There could be more than one cause for the pain because of the complex constitution of the knee joint. Sprains are also a painful injury to a ligament caused by tearing of the ligament fibers. Torn ligaments range from micro tears to partial tears or severe tears, where the ligament fibers are torn into two or dislocated.
A Popliteal cyst is a painful fluid-filled swelling at the back of the knees due to osteoarthritis, which is essentially a degenerative joint disease.
It occurs due to damage to the articular cartilage and swelling of surrounding tissues around the knee joints. One or more adults will eventually develop knee pain later in their life. Many people will be keen to take dietary supplements which contain glucosamine and chondroitin. NSAID drugs are helpful to counter the inflammation.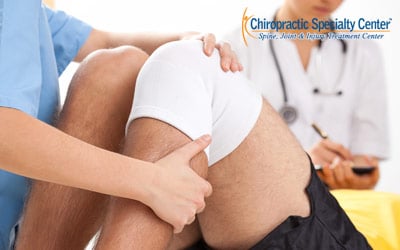 We have seen a rise in the number of knee pain and knee injuries in our centers. Our knee pain treatment has helped many that needlessly suffered. Visit us today for the best holistic knee pain treatment through the best methods of physiotherapy and chiropractic in Malaysia for a healthier active life.
Chiropractic Specialty Centers offers collaborative methods of knee pain treatment. In our centers, you will get treatments from both our physiotherapists and chiropractors. Our combined collaborative way of knee treatments is perfect for knee sufferers of all ages. Our Centers can help even if you have had surgery.
Chiropractic Specialty Centers have locations throughout the Klang Valley. Visit one of our Chiropractic centers in Kuala Lumpur, Petaling Jaya, Sha Alam, Bangi or Sungai Buloh to live a healthy active life. Call or visit one of our centers near you for the best comprehensive knee pain treatment today.