Benefits of Clinical Physiotherapy and Expert Physiotherapists
Opt for the Best Clinical Physiotherapy by Clinical Physiotherapists of Chiropractic Specialty Center® Today. Call us now to Book an Appointment.
Contact us today!
The Best of Physiotherapy by Clinical Physiotherapists at Chiropractic Specialty Center® in Kuala Lumpur (KL), Malaysia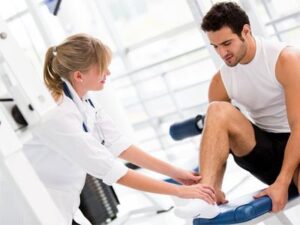 Welcome to our physiotherapy by clinical physiotherapists in Malaysia page, where we familiarize you with our Clinical Physiotherapists. We are the ONLY center that has specialized spine and joint training programs for all Physiotherapists. In short, the care you get from one of our Clinical Physiotherapists is superior to that offered by others. Visit one of our centers to experience the best physiotherapy by clinical teams of physiotherapists in Malaysia.
Physiotherapy is a branch of rehabilitative medicine aimed at helping patients through non-operative means. Our Physiotherapists can help you maintain, recover or improve your physical abilities in cases of illness, injury, and disability. Physiotherapy also means the treatment of any pain, disease, or injury by physical means.
Get the Best Non-surgical Clinical Treatment for Your Spine, Joint or Sports Injuries
Physiotherapists at our centers are highly trained and use a broad range of treatment techniques and approaches. Their training and educational programs we provide for our clinical teams are concentrated on best methods of manual therapy, therapeutic exercises and the application of electrophysical modalities are just some of the additional training we give to our clinical staff. The care you get in our centers is second to none in Malaysia. Best of all, the care you get from our clinical physiotherapists is coupled with the care provided by the some best chiropractors in town (Kuala Lumpur, Malaysia).
If you are looking for the best of physiotherapy by clinical physiotherapists in Malaysia; visit Chiropractic Specialty Center. Our physiotherapists ONLY treat spine, joint and sports injury. As a result, they are better than those that offer a full range of therapeutic services. In other words, we have specialized physiotherapists and not those that claim to be "jack of all trades." Hence, the care you get is tissue and diagnosis specific.  As a result, our patients improve at a faster pace.
If you have neck pain, back pain or joint pain, you owe to yourself to seek care from one of our experts and not from the "jack of all trades." Our Physiotherapists offer focused care, the kind that all spine, joint or sports injury patients require. Our methods of treatments and our care given through our technology enable our physiotherapists to pay attention to the smallest detail.
If you are looking for a highly targeted, specialized team of experts that specializes in Neuro-Musculo-Skeletal Disorders (muscles, ligaments, joints and associated nerves), we should be first on your list.
The conservative treatment you get from our therapists is backed by state-of-the-art technology that others do not have. Furthermore, the physiotherapy you get in our centers is further enhanced by our research-based chiropractors. We hope to have answered some of your concerns regarding our Physiotherapy and Chiropractic Treatment in Malaysia. If you still have questions or wish to know our clinical teams can help, please contact us now.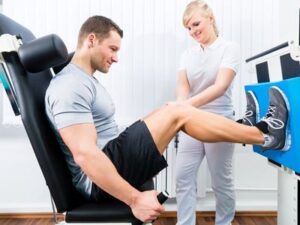 Now, you can have the best of each: Chiropractic and Physiotherapy. Therefore, you no longer need to choose one or the other. And why should you, when you can have both in our centers. Our non-operative spine and joint treatment procedures have helped thousand non-operatively. If you are in pain, we can help. Also, please share this page with those in need.
Our physiotherapy by clinical physiotherapists in Malaysia is better because of our extensive work in the rehabilitation of muscles, tendons, and ligaments. They have an advanced understanding of how the body moves, what keeps it from moving well and how to restore mobility. Our teams are the only non-surgical teams that offer targeted slip-disc treatment in Malaysia.
Physiotherapists at Chiropractic Specialty Center® are the best physiotherapists you can find in Kuala Lumpur, Klang Valley or even Malaysia for that matter. What we offer is a clinical form of physiotherapy, which means that we fix the actual cause of your problem, so it doesn't keep coming back. Our Clinical teams of Chiropractors and Physiotherapists are the experts you need for a non-operative solution. Spine surgery should be your last option.
What is the best method of treating the spine, joints and sports injuries?
The best care you can opt for is clinical targeted conservative treatments. Spine, joints and sports injuries are better through the collaborative efforts of both chiropractors and physiotherapists. Effective treatments are those provided by skilled research-based clinical teams. In Malaysia, the best non-surgical spine and joint teams are at the Chiropractic Specialty Center®. Our methods of knee pain, hip pain, Jaw pain (TMJ pain), foot pain, plantar fasciitis, shoulder pain, elbow pain and carpal tunnel syndrome are better targeted. Best of all, the care you get from us is enriched with breakthrough devices and technologies. In short, we get you better faster!
If you are seeking the best chiropractic clinic, we are it! Don't just take our word for it, visit us to experience clinical excellence in the spine and joint treatment field. Some opt for medication, injections or even surgeries when conservative measure at our centers is better suited. Medication and steroid injections have harmful side effects. You may be better off without them than with them. Surgery should be the last option. But knee pain or knee injuries opt for surgical procedures too early. We have treated our fair share of failed knee surgery patients. And the one thing that they all had in common was the surgery was not needed!
We have also had many that opted for spine surgery. Slipped disc (slip-disc) does not need surgery. Our conservative non-surgical spine care can fix, repair and reverse even a severe slipped disc. To conclude, call our center and opt for the best chiropractic and physiotherapy by Clinical physiotherapists and chiropractors in Malaysia.
Which is Better Spine Surgery or Clinical Non-Surgical Treatments?
Although surgeons may differ, clinical targeted physiotherapy treatments are superior to spine surgery. It is a fact proven through research. Spine surgeons with the help of their backers (pharmaceutical companies and makers of spine surgery devices or equipment) have funded and published numerous research articles claiming clinical successes that may be misleading. A published article by the National Academics Press in Washington, D.C. (United States of America) shed light on the extent of corrupt dealing when it comes to publishing medical research.
So, when you hear about the high success rate of spine surgery, take it with a grain of salt. Their continued exaggeration of successes was the reason why a group of researchers set out to prove them wrong. For their research, they relied on the governmental database held by the Ohio Workers Compensation Bureau.
What they found should put those to shame who claim high rates of success with spine fusion (a type of spine surgery). The researchers studied and reviewed the clinical successes of 1,450 patients.
These 1,450 patients were divided into two groups: 750 spine surgery patients and 750 physiotherapy or conservative treatment patients. It must be mentioned that both groups had the same diagnosis and severity of symptoms. The authors report surgical failures in 75% of patients 2-years after surgery. Believe or not, only 25% improved to a point where they could return to work within two-years after spine surgery. The physiotherapy or conservative treatment group had a success rate of 64%. In short, physiotherapy is almost three times more effective than surgery. In short, always opt for conservative treatment before spine surgery.
As well as treating the problem, they may also suggest things you can do on a daily basis to help relieve pain and discomfort.
They may also give you advice on how to prevent further injuries by listening to your needs and working with you to plan the most appropriate treatment for your condition, including setting goals and treatment outcomes. For example, if you have lower back pain, maintaining good posture and doing core stability exercises to strengthen your abdominal muscle and back muscles may help.
As well as treating specific problems, our physiotherapists may also suggest multiple ways for improving your general wellbeing – for example, by taking regular exercise and maintaining a healthy weight for your height and build.
Specifically, physiotherapists improve clients' quality of life by:
Managing pain with physical modalities
Promote joint manipulation and mobilization to reduce pain and stiffness
Promoting optimal mobility, physical activity and overall health and wellness;
Preventing disease, injury, and disability;
Managing acute and chronic conditions, activity limitations, and participation restrictions;
Improving and maintaining optimal functional independence and physical performance;
Rehabilitating injury and the effects of disease or disability with therapeutic exercise programs and other interventions; and
Educating and planning maintenance and support programs to prevent re-occurrence, re-injury or functional decline.
At Chiropractic Specialty Center®, all our treatments are one-to-one, so you receive the undivided attention of your physiotherapist. To conclude, the treatment you receive from our clinical teams of physiotherapists is better and more specific when compared to any other in Malaysia. Don't just settle for the average therapy center when you can get the best physiotherapy by clinical physiotherapists in Malaysia.