NSD Therapy®: BEST Non-Surgical Slipped Disc Treatment in Malaysia
If you want the best conservative treatment for back pain or neck pain treatment in Malaysia, you should seek NSD Therapy. No other method of spine care is as effective as NSD Therapy®. In our centers, we utilize the NSD Therapy® methods for mild, moderate and even severe spine conditions. In Short, it offers the best and most comprehensive spine treatment. Conditions such as Degenerated Discs, Bulging Disc, Herniated Disc, and even Extruded Spinal discs are best treated with NSD Therapy®. So, if you have neck pain, back pain or Slip Disc (Slipped Disc), you owe it to yourself to investigate. Visit our center today to get the best conservative treatment for neck pain, back pain or slipped disc (slip-disc) today.
Chiropractic Specialty Center® is the only NSD Therapy® capable center in Malaysia. We have successfully treated thousands of patients who once contemplated surgery. Call us today to discover the best of the non-surgical options in Malaysia. We have succeeded when others have failed. Our Technology and Clinical Physiotherapy (Physical Therapy) coupled with the care you get from our Research-Based Chiropractors (Chiro) is second to none.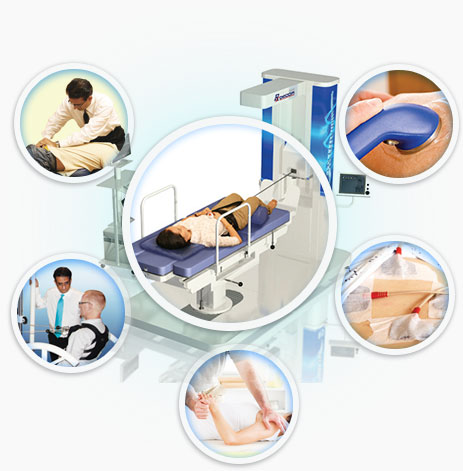 How is Non-Surgical Spinal Decompression Therapy Administered?
NSD Therapy® (Non-Surgical Spinal Decompression Therapy) is a gentle and safe procedure.
NSD Therapy® is a multifaceted, a multiprong system of non-operative spine care that targets neck pain and back pain with an unprecedented level of efficacy. Regardless of previous failures, you may have experienced at other centers; we can help. It is the safest and most effective form of spine care. So, rest assured that regardless of the type of procedure, all components of your treatments are gentle, safe and free of discomfort or pain. You have nothing to lose, except the pain! It is your best alternative to spine surgery. So, if you are thinking of having surgery, or if your surgeon is recommending surgery visit us before you proceed. Back and neck surgery is not as effective as you may think. Failure rates are high. Most spine surgery patients will need additional surgical interventions in the future. Read more about spine surgery in our article or blog section. But, if you have had spine surgery and still have pain, we can help with that as well.
The Spinal Disc 
The vertebral discs can be described as soft yet tough pads that separate the bones of the spine (vertebrae) from one another. These highly specialized structures act as a shock absorber, a ligament by holding the vertebrae of the spine together, and as a pivotal point allowing motion. NSD Therapy® is the ONLY non-surgical method of care that requires combined clinical efforts from a team of Chiropractors and Physical Therapists.
Healthy Disc
Annular fibers are tightly bound and not in contact with the spinal nerve of the spinal cord. The spinal disc is thick, indicative of proper spinal disc hydration and nutrition.
Bulging Disc
The annular fibers have expanded and slightly loosened from one another, resulting in a swelling of the annular fibers towards the spinal nerves and spinal cord.
Herniated Disc
Spinal discs do not herniate as quickly as most assume. Some degenerative changes are necessary before it herniates. A herniated disc whose annular fibers have torn allows the nucleus to migrate.
Degenerated Disc
A degenerated disc is a dehydrated spinal disc that has lost proper nutrient flow. They are thinner and significantly weaker than the healthy spinal disc.
Healing a Degenerated Spinal Disc with NSD Therapy®
According to an article published by Drs. Urban & Roberts: "About 20% of people in their teens have spinal discs with mild signs of degeneration; degeneration increases steeply with age, particularly in males, so that around 10% of 50 years old spinal discs and 60% of 70 years old spinal discs have SEVERELY DEGENERATED SPINAL DISC (Degenerative Disc Disease)! NSD Therapy® was created to heal and repair degenerated spinal discs, hypertrophy of ligamentum flavum, herniated discs, bulging discs, protruded, prolapsed discs, extruded discs, fragmented discs and facet hypertrophy without surgery, injection or medication. In short, NSD Therapy® is your best non-surgical treatment to heal back pain or neck pain.
Spinal Disc Degeneration is the Number One reason why patients get a "Slipped Disc." This is why our chiropractors and physiotherapists look to identify the root cause of your back or neck pain. Unlike other centers, we take the time and study your condition before recommending any form of care. Our centers will ONLY accept your case when we are relatively certain that WE CAN HELP. Therefore, you have nothing to lose. We have a very high success rate when it comes to neck pain, back pain, sciatica, spondylosis and slipped disc. Thus, we can help, even if others have failed. What makes us unique and different is our focused care.
Research-Based Clinical Treatments
The focused care you get in one of our centers is the result of years of research. You can not get focused care unless your therapist or doctor understands the theories, principals, and modes of damage along with a firm understanding of treatment methods that are backed by advanced technology. These are the hallmarks of care you get in our center. You can count on it.
NSD Systems of Treatment and Therapy and Its' Impact or Effects of Disc Degeneration
Far too many patients are misdiagnosed with muscle tension or muscle spasms. These injustices occur in chiropractic, medicine and physiotherapy centers, clinics and even hospital all over the world. Muscles have become the scapegoats for many that have limited knowledge. Muscles can cause imbalances, which ultimately leads to increased stress and an eventual slippage of discs, spondylosis, sciatica, neck pain and back pain. But muscles are rarely a cause of recurring neck or back pain.
So, if you suffer from a pain that reoccurs time and again, the chances are that it is more than just a muscle involvement. We take it on to ourselves to provide our chiropractors and physiotherapists (physical therapists) with rigorous training and continuing education programs to ensure that they have the latest information about spine, joint, and sports injuries.
To hone their skills and sharpen their knowledge, each Chiropractic Specialty Center® is required to provide their staff with continuous training that improves the skills they have mastered in addition to obtaining knowledge that is recent.
One area we spend lots of time is the "Spinal Discs" and the "Effects of a Degenerated Spinal Disc"
Our founding Chiropractor (Dr. Yama Zafer) has made it mandatory for all our technical staff to be well informed when it comes to the SPINE. His understanding of spinal discs has led to improvements in methods of care we render. Research has shown us that spinal disc degeneration is the leading cause of debilitating neck or back pain. In fact, according to the most recently published studies, a spinal disc cannot herniate (slip) unless there are some degenerative processes present already within the disc. A degenerated disc is an unhealthy disc, which requires care. If disc degeneration is neglected, it will lead to disc protrusion/disc prolapse aka "SLIPPED DISC."
Why do our chiropractors spend so much energy on a degenerated disc?
We focus on spinal discs and disc degeneration because they can have a cascading effect. Spinal disc degeneration is associated with sciatica, spondylosis and slipped disc. In fact, medical research has established disc degeneration a root-cause for a herniated disc, sciatica, spinal stenosis, spondylosis and slipped disc. When loaded; a degenerated disc (spinal disc) loses height and fluid more rapidly causing increased stress on joints, which can lead to pain. The posterior (rearmost) portions of the spinal disc will also lose height, leading to discogenic (spinal disc caused) pain.

The long-term effects of spinal disc degeneration can have a far-reaching implication. Below we have included a brief list:
Neck Pain
Back Pain
Spondylosis
Sciatica
Disc bulge
Disc herniation, "SLIPPED DISC."
Weakness, numbness, tingling or even paralysis in one or both extremities.
Ligamentum Flavum
Ligamentum Flavum (aka the Yellow Ligament) is a strong ligament that runs bone to bone from the 2nd cervical vertebrae (possibly C1) to the tailbone interconnecting each segment of the spine to one below and the one above. Its location is of utmost importance since it is in the back portion of the spinal canal. The average thickness of this ligament in a healthy adult is 2.5-4.5mm. A thickness of 7mm or above is considered a hypertrophy (thickened).
Thickening of Ligamentum Flavum and Our Methods of Non-Surgical Spinal Decompression Therapy
The proper medical term is Hypertrophy of Ligamentum Flavum. Hypertrophy (overgrowth, thickening) can act as a mass that compresses the spinal cord producing back pain and even sciatic-like symptoms (when this thickening occurs in the lower back). It can happen at any age, but most often is seen in the middle-aged and elderly. If neglected it can thicken and produce unrelenting back pain. Hypertrophy of Ligamentum Flavum is the as result of injury and degenerative disc disease. Unfortunately, many chiropractors or physiotherapist are not familiar with the effects of a thickened Ligamentum Flavum.
In our centers, we take it onto ourselves to educate and train each of our chiropractors and physiotherapists so that they can offer a holistic approach to back or neck pain patients. This is why our success rate is in the upper 95 percentile, even for those that have severe slipped discs. NSD Therapy® is rendered through the expert and clinical efforts of our chiropractors and physiotherapists. Our methods and systems are made possible through advanced technology: the RxDecom®. NSD Therapy® is our specialized method of spine care specific for a slipped disc, degenerated spinal disc and thickening of Ligamentum Flavum (hypertrophy of Ligamentum Flavum).
Disc Bulge and Our Advanced Non-Surgical Spinal Decompression Therapy Methods
A disc bulge is a common condition that results when a spinal disc is damaged. Unfortunately, many doctors and therapists have this mistaken notion of thinking that a disc bulge is normal or expected. The one thing that we want everyone out there to know is that any issue or problem with a spinal disc is not normal and of course that includes spinal disc degenerations and disc bulge. Once a spinal disc degenerates it will buckle out. It buckles out because the fibers of the spinal disc lack the nutrients and the strength to hold firm under load.
Neglected or poorly treated spinal disc bulge will progress to a more serious condition: a Herniated or Protruded spinal disc. The layperson's term for a herniated spinal disc is a "SLIPPED DISC." A spinal disc that bulges is an unhealthy disc and treatments are needed before it progress and becomes a full-blown slipped disc. This is the main reason why the chiropractors and physiotherapists of Chiropractic Specialty Centers® take time studying your MRI films to see the major and the minor signs of disc damage. We are Malaysia's best non-surgical teams that offer effective holistic non-surgical care for spinal discs. In fact, none can come close to the successes we have achieved.
Prevalence of Lumbar Disc Bulge
A bulging disc is a common finding in almost all serious cases of back or neck pain. Once identified it must be treated. Neglect can easily lead to further damage. A pilot study of the prevalence of lumbar disc degeneration in elite athletes with lower back pain at the Sydney 2000 Olympic Games:
58% were found to have an element of disc displacement, most of which were disc bulges.
So, disc bulges are extremely common. As common as they are, it ONLY occurs when there are some levels of Disc Degeneration. NSD Therapy® is the  NON-OPERATIVE spine therapy that can fix a disc without surgery. Call a Chiropractic Specialty Center now and learn about the non-surgical option your surgeon doesn't want you to know.
Our Non-Surgical Spinal Decompression Therapy and Herniated Disc AKA "SLIPPED DISC."
Slipped disc, better known by its medical terms: bulging disc, herniated disc, protruded disc, prolapsed disc, extruded disc, is treatable non-surgically. Don't let others pressure you towards a surgical intervention. Surgery should be your last option and as such should be performed when you have exhausted all effective means of non-surgical avenues. For the non-surgical treatments to work, they must be targeted and comprehensive. Getting therapy from a surgical center is not always the best option. There are many centers clinics and even hospitals who lack the skills, knowledge, technology and clinical non-surgical staff to offer effective non-surgical solutions.
We are the BEST Non-Surgical Slipped Disc Treatment Center in Malaysia
Surgical centers often concentrate on improving surgical procedures and rarely improve or implement non-surgical interventions. So, the next time your surgeon recommends physiotherapy or non-surgical treatments at their hospital, you may want to reconsider! For one thing, hospitals do not have Chiropractors on staff. Another key point is that the physiotherapists in a hospital setting are more like the "jack of all trades," rather that one who specializes in the non-surgical slipped disc treatments. Also, hospitals lack non-surgical therapy systems such as the RxDecom. Instead of offering treatments of Advanced Spinal Decompression technologies, they utilize spinal traction. Traction has failed to produce results for a slipped disc.
To conclude this section, you are in much better hands with us. We are your best non-surgical option in Malaysia. No one has the technology or methods of non-surgical care we employ for those with a slipped disc. Visit us today to learn the best non-surgical treatment options in Malaysia. Our technology and integrative methods of spinal disc treatments are second to none.
The Chiropractic Specialty Center® Difference
Chiropractic Specialty Center® have the technology and a clinical team of physiotherapists backed by experienced Chiropractors to treat even the most difficult or challenging spinal disc condition. In fact, we had succeeded when surgery was not beneficial. A Herniated Disc is a serious condition that needs urgent care. It is the number one reason why surgeons do back surgery. If you have been diagnosed with a herniated disc or any other type of a spinal disc disorder, get in contact with us for a non-surgical solution. We are better than others because we understand how a spinal disc gets damaged and have the skills and technology to fix and repair the damages we discover.
Prevalence of Herniated Disc and Success rate of Our Conservative Treatment through Advanced Methods
It is amazing how often a slipped disc (herniated disc) is misdiagnosed, even though it is a common condition in those that have a recurrent low back or neck problem. As with any condition, the key to successful treatment is timely diagnosis and accurate treatment. At our centers, you will find capable non-surgical experts that are second to none. We have the technology, specialists, and the NSD Therapy® methods of care. With us, your chance of recovery is extremely high. We rarely fail, especially if you are a candidate. "*About 40% of chronic back pain patients will have disruptions (tears) within the substances of their discs that are often invisible on MRI".
Our Methods of Non-Surgical Spinal Decompression Protocols can fix these tears as it increases the level of nutrients to a treated disc. Why live in pain, call us now and experience breakthrough technology and systems of care that thousands have found helpful. NSD Therapy®, when performed in our center, has been successful in more than 95% of patients. The ones that did not manage to get the full benefits of this superb therapy were those that missed sessions or stopped too soon. Therefore, we ask all our patients to stay consistent with treatments. Improvements will come, and even repair will come. We are that certain.
*Schwarzer AC, April CN, Derby R, Bogduk N, Kine G. "The prevalence and clinical features of Internal Disc Disruption in Patients with Chronic Back Pain." Spine 1995; 20:2643-2625.
What is the Most Common Age for Herniated Disc (Slipped Disc or Slip-Disc)
We have seen a slipped disc (herniated or protruded spinal disc) in as young as 14 years old. Spinal disc problems can impact anyone at any time. Unfortunately, it is happening to younger and younger members of our society.
Anyone can get a herniated discs (Slipped Disc). Lumbar disc herniations (Slipped disc in the lower back) are most in the 25 to 40 year of olds. However, we have had patients as young as 15 seeking NSD Therapy® because of a severe slipped disc. Our Slipped Disc treatments are successful because we treat the cause. Our patients are our testimonial. Watch this video and learn what we were able to accomplish for this real life of patients that other could not help. Recap & Review
Disc Degeneration is the precursor of disc related problems. It can occur as early as age 11!
Thickening of Ligamentum Flavum has often seen in-patient with disc degenerations.
A disc bulge is extremely common: 58% of Olympians with back pain had it in Sydney. It can affect the fittest of the fit!
40% of chronic back pain sufferers have disc herniation (slipped, tear).
Almost all disc related problems have associated disc degeneration
Necessity is the Mother of all Inventions
A wise man once said: "Necessity is the mother of all inventions." This could not be any truer when it comes to neck pain, back pain or scoliosis and slipped disc treatments. Neck and back pain was a horrific disorder that often led to paralysis and disability in otherwise young healthy adults. For decades; slipped disc, spondylosis, and sciatica patient told that a non-operative solution is impossible. In 2009, NSD Therapy proved them wrong. A slipped disc is the leading cause of severe neck and back issues today.  Scoliosis is fast nearing the epidemic levels! Visit our center for the best neck pain, back pain and slipped disc or scoliosis treatment options in Malaysia.
Today, Our Methods of Non-Surgical Spine Therapy is making the Impossible Probable.
At the very heart of Our Non-Surgical Spinal Decompression Therapy lies the RxDecom®. It is the most complete and technologically Advanced form of
Spinal Disc rehabilitative modality in the world today.
Have you been diagnosed with a "Slip Disc" (herniated/protruded disc), "Sciatica," or "Spondylosis,"? Do you suffer or experience neck pain and back pain? If you have answered yes to any of these questions, then NSD Therapy® is for you. Watch us on our YouTube Channel and discover effective non-surgical spine, joint, and sports injury treatments. Our collaborating team of chiropractors and physiotherapists are the experts you need for a speedy recovery.
Dr. Yama Zafer (Doctor of Chiropractic) is the founder of NSD Therapy®. Yama Zafer, known to his patients as "Dr. Yama" is an American Chiropractor. His quest for a better alternative to back surgery started in 1987 when he was rendered immobile as a result of an injury. His doctors and surgeons recommended surgery. Having not liked the option he obtained care from a chiropractor.
After completing his chiropractic education at Cleveland Chiropractic University in his hometown of Kansas City (USA), he opened several clinics there and practiced there for ten years. During those years he researched and developed what would become the NSD Therapy® method of spinal care in 2009.
Like the Developer of Chiropractic, Dr. B.J. Palmer, before him, Dr. Yama knew that the body could heal faster and better with the use of technology. The problem was, all existing technology seemed to have design flaws:
Traction machines that had no awareness of the changing needs of the patient
Distraction tables that would treat the low back but do damage to the neck, just to name two significant problems
In 2006, Dr. Yama moved to Malaysia because of its favorable climate for manufacturing and because of its great selection of things to eat. He started TheraMod™ and perfected the RxDecom®, the FD-3000 and the Spinercise® spinal rehabilitation device.
The results were immediate and amazing attracting the attention of top spinal surgeons, hospitals, sports treatment centers and the media.
Patients cured of their problems without surgery wanted to open their centers to help others, and so the Chiropractic Specialty Center™ franchise was born. Expert Chiropractic, Clinical Physiotherapy and unique, cutting-edge technology combined with a design made by Dr. Yama bringing health to Malaysia, Asia, and the world. To conclude, visit one of our centers if you are looking for the best non-surgical slipped disc treatment or NSD Therapy® for a damaged spinal disc in Malaysia.