Our center has the best Slip Disc Treatments in Malaysia.
There are many chiropractors, physiotherapist and Chines medical practitioners that advertise slip disc treatments. Many of the treatments offered have little to no benefits for those with a slipped disc. Chiropractic Specialty Centers have the Best Slip Disc Treatments in Malaysia. We have succeeded when others have failed. In short, we are offering you a proven system of care with a relatively high degree of success. Serial MRI (pre and post treatment MRI) of slipped disc patients are the testament to our clinical success. So, we treat the actual cause of your slip disc. That is where we shine.
Should you go to Hospital for Non-surgical Spine Care of a Slip-Disc?
Hospital and surgical centers are just that! They are surgical centers, and as such their efforts of treating a slip-disc is through spine surgery. The physiotherapy procedures they offer are typically for those that have had a surgical intervention and those scheduled for spine surgery. In short, if you want non-surgical spine or joint care, opt for a non-surgical facility. Visit a Chiropractic SPecialty Center® near you today. All our efforts and methods are focused on getting you better without medication, injection, and surgery.
Herniated disc, extruded discs and fragmented discs (Slip-Disc or Slipped Disc) ae difficult condition to treat. To recover, you need specialized non-surgical methods and advanced breakthrough technology. Devices such as the RxDecom® as used in our centers have repaired spinal disc issues for many. In fact, we have reversed even severe forms of slipped discs (extruded and even partially fragmented discs). So, opt for our methods. Avoid the general or typical treatments that most hospital or therapy centers provide. The vast majority of hospitals that offer non-surgical slip-disc treatments lack the technology or the non-surgical methods of treatments. Most all, want to resolve your issues surgical instead. So, if you are not keen on spine surgery, call us today for the best slip-disc treatment in Malaysia.
Best of all, our slipped disc treatment protocols are painless. In fact, most of our patients fall asleep during a session. Hence our motto: No Pain MORE GAIN! Unlike others, we believe you don't have to go through more pain to get better.
Our Founder and Director Dr. Yama Zafer and Mr. Chong (a patient of Dr. Yama) are the invited guest on the Bernama Television program in Kuala Lumpur, Malaysia. Mr. Chong related his experience with the technology and treatments he received from Dr.Yama. In short, the treatment rendered to Mr. Chong was superior to all other had received. In fact, our methods of care cull restored his health while others made him worse. His story is a non-operative success, the likes of which others can not do. So, when we say we have the Best Slip Disc Treatments in Malaysia, we can back that claim up.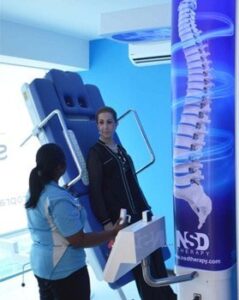 NSD Therapy is the treatment of choice for those the suffer from a slipped disc. A slipped disc is exceedingly common. Nowadays, people as young as teenagers have suffered from this debilitating pain. Fortunately, in our centers, a slipped disc is treated non-surgically. The best and most efficient non-operative method of slip disc treatment is the NSD Therapy protocols.
Chiropractic Specialty Centers are the only centers in Southeast Asia to utilize the NSD Therapy® methods of slipped disc care. We have documented success cases with proven results. The treatments are painless and rendered through the clinical efforts of our physiotherapists, advanced technology, and chiropractor in Malaysia. So, what are you waiting for? Call or visit a center to have a second opinion before you opt for a surgical option. Surgery should be the absolute last option. Our methods of physiotherapy and chiropractic in Malaysia for the slipped disc is 95% successful. No other method of spinal therapy can offer you the same success. To conclude; visit one of our centers if you are looking for the Best Slip Disc Treatments in Malaysia.