Chiropractic care is a holistic approach to wellbeing
Chiropractic started in 1895. Dr. Daniel David Palmer (DD Palmer) is the founder of chiropractic. The profession of Chiropractic begun to grow at an believe rate. The profession of chiropractic owes much to its acclaimed fame and success to its founder who preached the connection to healthy living with the nervous system. Today as it was over 100 yeara ago: Chiropractic care is a holistic approach to well being.
According to Dr. Palamer, you cannot have a well-balanced life unless there is balance within your nervous system. He further related that the nervous system could not function at 100% when issues are impacting the spine. So, he developed A system to reposition a spinal segment manually. He called this manual process of moving a bone to a better position an adjustment. The very first patient adjusted with Harvey Lillard. And ever since, the profession has grown to treat a host of condition that includes spine, joint, and sports injuries.
Tody's Chiropractors do more than just realign the spinal bone back into a better align Ene met. Today's Chiropractor looks at more than just the spine, but the entire neuromusculoskeletal system as a whole. Today, the association of chiropractic to natural well-being is greatly appreciated by many. Chiropractic care is a holistic approach to wellbeing is fast becoming common throughout the world. 

Many centers have chiropractors and physiotherapists working side-by-side for the greater good, and these center are providing to be more effective when it comes to spine and joint problems as opposed to the center that offers chiropractic or physiotherapy alone.
The Chiropractors of Chiropractic Specialty Centers Use advanced technology and collaborate with physiotherapists to provide you the best possible treatment for your pain and injury. Ours is s holistic system of care with a focused, targeted system of procedures. Through our efforts thousands have improved, we have helped many slipped disc patients that others could not. We have even saved a few from failed surgical interventions. Let our clinical team help you live a healthy active life today.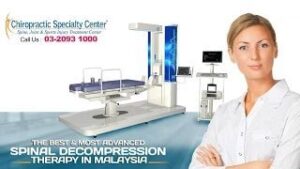 Call and visit one of our Center to discover how modern chiropractic can give you wellness and active life without drugs or medication. Our clinical teams of chiropractors and physiotherapists can provide you the best methods of care backed by advanced spinal decompression technology. Visit one of our centers and see how chiropractic care is a holistic approach to wellbeing. Look at how we offer a targeted system of care without drugs, injections or surgery. Our methods of chiropractic care is a holistic approach to wellbeing, and it is second to none in Malaysia.