Attention knee pain sufferers. Our centers have the best and most effective knee treatments in town. Our non-operative methods are second to none in Malaysia. The success our patients obtain from our care is due to the level and extent of our skills and knowledge. Our Knee Pain Treatments starts with an exam. One of our clinical Chiropractors will evaluate every aspect of your knee.
We will evaluate the muscles, ligaments, meniscus, and joints of the knee to identify weakness and malfunction. Often, we find multiple dysfunctions, weakness or injured parts. Our methods of care can effectively offer therapeutic procedures for any of the involved tissues. We have treated many with meniscal tears successfully. We have been able to help patients that surgery or other methods made worse!
Effective Knee Treatment by Chiropractic Specialty Center®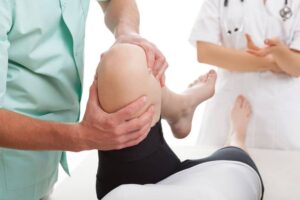 Before we can begin with the treatments, one of our research-based clinical chiropractors will thoroughly evaluate your knees. Their goal is to document the state you knee is in and to identify any of the weak or injured tissues. We may need an x-ray or even MRI if we suspect bone or meniscal damage. Regardless of the severity of your condition, we will have a non-surgical option available for you.
When our team starts their treatment, you can rest assured that they will deliver the promised results. We have over a 95% success rate when it comes to knee treatments. Our achieved successes are the reason why knee sufferers seek our advice. So, if you have an injured knee or a painful knee joint, we can help. We can help even if you have had knee replacement surgery and still live with pain. Remember, many still have pain after surgery. In fact. The majority of patients we have treated were those that have had surgery or those that were strongly encouraged to have surgery. In both these cases, improvements achieved were non-surgical.
Chiropractic Specialty Centers® have teams of Physiotherapists, and Chiropractor to treat even the most painful knee condition. We have helped many that Knee surgery made worse. Far too many are pushed into getting the useless arthroscopic surgery or talked into getting the TKR (Total Knee Replacement Surgery) way too early. If your surgeon is recommending surgery or steroid injections, visit us first. Knee surgery or steroid injections can have some limited improvement, but most will still suffer in pain.
Get your pain healed without cutting or taking harmful substances. Visit one of our centers today to start your recovery.  Don't let knee pain bog you down. Our effective knee treatments for knee pain that can help you live a healthy active life again.