The RxDecom is specially made to treat neck pain, back pain, and slipped disc (Slip-Disc). Treatments rendered by the RxDecom can fix the damage to your spinal disc without painful injections or surgery. RxDecom has revolutionized the non-surgical fields of spine therapy. Visit one of our centers and experience pain relief through our State-of-the-Art Technology for the spine.
Neck and back pain are all too common. According to published research, up to 80% of the population will suffer from neck or back pain. For most, the pain may be limited. But, for some neck pain progressively worsens to a point in which it becomes a life-altering condition. Mechanical neck or back pain can induce intolerable pain and unimaginable changes. Therefore, it is best to treat a minor issue before it becomes a life changer.   
We Treat You Through Advanced Spine Technology
Our centers have been at the forefront of technology when it comes to spine and joint care. We have treated thousands of spine and slipped disc cases (neck pain and back pain), the vast majority of whom has successfully recovered. Our achieved successes with the spine and joint patients are testaments of our clinical skills, knowledge, and technology. In short, we have succeeded even when others have failed.  
Neck and back pain is said to be the leading cause of disability for those under the age of 45. The RxDecom intends to change this.  You can avoid surgery, disability or worse by getting your treatments through the Rxdecom. The sooner you do this, the better it is. Visit a center near you to see if treatments through the RxDecom is warranted.
RxDecom for Neck and Back Pain Treatments
Neck pain and back pain treatments are often flawed, frequently painful, and can be exceedingly expensive. If you are in pain, you owe it to yourself to try the RxDecom. In other words, the RxDecom can help you even if others have failed. The RxDecom has helped thousands of patients. We have many documented cases showing healing, repair, and retraction of even severe slipped discs. So, if you have pain, we can help. Call us and discover how our technology can help your recovery towards a healthier more active life. 
RxDecom works because it lowers the built up pressures inside spinal discs. The lowering of pressure helps reintroduce nutrients to the damaged cells. Hence, recovery and repair of a damaged disc. Best of all, when we combine the RxDecom treatment with Chiropractic and Physiotherapy, the results are unparalleled. None in town can achieve what we can. So, don't waste efforts on ineffective therapy approaches, contact us today.
Spine Conditions are Best Treated by the RxDecom
The spine consists of individual small bones called vertebrae that are stacked on top of one another to form the spinal column. The spinal disc is the cushion between each vertebra. The problem with a disc is that it can pinch or irritate a nerve from the spinal cord resulting in pain that affects the arms (if the problem is occurring in the neck) or the legs (sciatica-like symptoms). Traditionally, it has been difficult to successfully treat people with disc related problems such as disc degenerations, bulges, and herniations. But, the RxDecom is designed to address and fix the severest spine condition. To conclude, the technologies and abilities of a RxDecom are unmatched by other therapy devices. The RxDecom provides the best non-surgical repairs without medication, injections or surgery in Malaysia.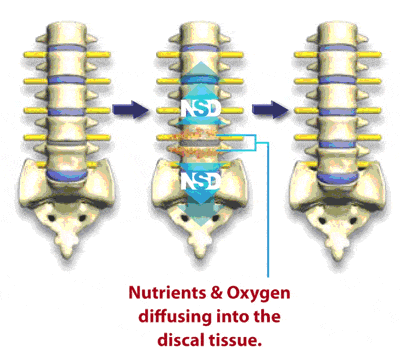 Research has proven that vertebral discs have poor blood supply.
The blood supply available to a disc is indirect and insufficient to handle recovery following an injury. Additionally, when an injury occurs, the nutritional needs of the injured segment rises significantly. This need is directly related to the degree of damage. Discs, just like any other structure, requires blood flow (nutrients) for repairs. Nutrients for a spinal disc must be brought in through the process of diffusion called imbibition. In other words, the spinal disc must suck in blood from nearby tissues; namely the vertebral endplate. Hence, the need for the RxDecom.
The RxDecom can enhance the imbibition of nutrients into a disc. So, therapy on the RxDecom will bring in more blood. As a result, you get better faster. In other words, the disc heals without surgery. You get to keep all your important body part intact by staying away from surgery! It is just that simple. However, we realize that this is a little too technical. Unfortunately, we have difficulty in making these easier.  We have tried linking to videos whenever we can. Our goal is to help you have a clear understanding of your condition and how we can help. But, before you can understand why we need to increase blood flow to an injured disc, it might better to know how a disc gets damaged in the first place.
Now that you have a better understanding of how a disc gets damaged let's see how we can help.
RxDecom is the most critical of all procedure through renowned methods of NSD Therapy. RxDecom is great, but we need more than one treatment; that is where NSD Therapy comes in. Simply put, NSD Therapy can fix your torn and damaged disc better than any other surgical or non-surgical means. That is if you are a candidate for NSD Therapy. So, call our office and get an appointment right away. Don't ignore your health. We can help.
Therefore, the final and most successful method of treating a disc-related problem is by enhancing the availability of nutrients. To date, the only method proved to achieve this is a non-surgical decompression therapy.
Effective Therapy for Neck and Back Pain
Since the dawn of time, humanity has sought an effective treatment for neck and back pain. To date, Spinal Decompression Therapy has been the most helpful and most promising method of non-invasive care. Spinal decompression therapy is new; started just about two decades ago in the United States of America. Since its inception, spinal decompression therapy has improved and evolved. Today the most advanced form of spinal decompression therapy is through the RxDecom. The RxDecom has technological advantages and intelligence that other devices lack. It offers the best non-surgical method of spinal rehabilitation, enhanced with intricate computer interfaced systems.
Non-Surgical Decompression Therapy (NSD Therapy ®) is an alternative to spinal surgery. It combines technology and medical science that is specifically created to assist Chiros and healthcare providers in the treatment and rehabilitation of spinal related ailments, without having to resort to invasive surgeries. This technological breakthrough has allowed Chiropractors in Malaysia to achieve results that were, in the past, unthinkable.
RxDecom treatments are through a series of mechanical pulls that targets the problematic segment in the spine. A separation of 5-7mms in the disc space occurs, creating a negative pressure that leads to healing. This non-surgical back and neck treatment are by far the most advanced and painless treatment to date. In our clinic, we use this treatment in conjunction with chiropractic and rehabilitation.
Our clinical team of Chiropractors and Physiotherapists will evaluate every aspect of your condition. The goal to identify all weakness and issues. We initiated treatments on the RxDecom when we have identified the cause of your condition.
Herniated, degenerated, or bulging disc sufferers no longer need surgery or killer medication. Non-operative treatments from the RxDecom can help spinal disc patients recover better, faster and holistically.
Maximum Medical Improvement
Our methods of therapy are to assist you to get to MMI as soon as possible. MMI better known as the Maximum Medical Improvement is a state in which a patient regain most of his or her lost functions. Our clinical team and the technology they use (the RxDecom) are better at getting you to MMI within the shortest time. We succeed when they fail. So, contact us as your first liners and not as your last option. The sooner we get started, the better results you will gain.
Our methods of care are holistic; meaning we treat the cause and not just the symptoms. Addressing the actual cause of a condition is imperative to a lasting relief. Hence, our means of care incorporate specific methods that can rehabilitate all damaged areas. Our success rate has been greater than 90%. We have extremely high success rate; even for those that others fail. We have managed to treat those with failed back surgeries successfully. For this reason, we pride ourselves on being able to offer all those who seek our help a complete and well-balanced treatment for neck, back pain and slip-disc treatments in Malaysia.
In Pain, We Can Help!
Do you have a herniated disc (Slip Disc)?
Have you been diagnosed with a multiple herniated discs?
Has your doctor diagnosed you with a Degenerative Disc Disease?
Were you told that you have a Posterior Facet Syndrome or Spondylosis? Do you have numbness, tingling or weakness in arms or legs?
Is the doctor recommending surgery?
If you answered "YES" to any of the above questions; you need our help! Our centers are your best hope for a non-surgical solution.  A non-surgical intervention is not just cheaper, but most importantly better. Also, it is longer lasting.
In fact, MayoClinic recommends a non-surgical solution whenever there is a spine or joint disorder. Surgery according to all established medical research should be done as a last option and never as a first. Yes, there are those the cut and ask questions later. Our way is better as it does not involve surgery, medication or injections. Call us today, for your non-surgical option. We can help, even if others have failed.
Come to a Chiropractic Specialty Center and try out the Decompression therapy as an additive to your care.
At Chiropractic Specialty Center we combine the knowledge and services of decompression, chiropractic, physical therapy, trigger point therapy, physiotherapy and nutrition under one roof. When we started out; we wanted the most efficient form of back pain treatments. As a result, we are proud to be the first in Malaysia to offer treatments through the RxDecom. Our chiropractors' and physiotherapists' in-depth experience with decompression therapy, along with a firm understanding of disc problems, led to the development of the "five-prong approach."
In short, we are your best hope for an effective non-surgical, non-invasive treatment. Don't waste time or resources on methods that do little but cause more pain. Visit us for a second opinion to see if we can help you through the RxDecom.
RxDecom: BEST for Neck Pain, Back Pain and Slipped Disc!
Get the BEST Neck Pain, Back Pain and Slipped Disc Treatments Today Through The RxDecom!
Cervical Decompression Therapy
Our Cervical Decompression therapy is immensely helpful to those with spondylosis and slipped disc (Slipped disk). Cervical Decompression, much like the Lumbar Decompression Therapy is through our State-of-the-Art Technology: the RxDecom.
The vast majority of patients that receive cervical decompression via the RxDecom recovers faster in comparison to those that don't. We have successfully treated those with bulging disc, herniated discs, protruded discs or a prolapsed discs non-operatively and without medication. And we can do the same for you.
Bulging discs, herniated discs, protruded or prolapsed discs are conditions that are better known as a "Slipped Disc" (Slipped Disk). In addition to treating a neck slipped disc patient, we also treat slipped discs of the upper and mid back and the low back with our RxDecom.
The RxDecom provides specialized and specific decompressive forces that are gentle and yet effective to decompress and relieve pressure off the sensitive nerve roots, as they exit the neck. The decompression treatments applied by the RxDecom is further helpful towards increasing flexibility of joints along with strength and stamina of the connective tissues such as muscles and ligaments.
How are the treatments rendered for a Slipped Disc (Slipped Disk) on the RxDecom
The RxDecom offer the most comfortable and least painful when it comes to spine therapy. Treatments of the Rxdecomis not painful. In fact, treatments in our centers are not painful.  We believe that there is MORE gained without Pain. So, all our therapeutic efforts are rendered in a manner to keep you comfortable and without pain. The same applies when you get care from the RxDecom.
So, if you are a candidate for the RxDecom, a Physiotherapists will take you to the RxDecom therapy room. The room is private and very cozy. Once there, our physiotherapists will explain every aspect of your RxDecom session to and answer any concerns or question you have. After having completed the introduction, you will give special harnesses. Rest assured that all procedures are pain-free. You should even be uncomfortable. Best of all, the RxDecom places zero demands on you. It actually will do it call for you. The therapy bed is adjusted to match your height. Our team ignores nothing, and no chances taken. We will assist you in every aspect when you are ready to embark on the RxDecom.
Our clinical team members will ask you to stand the platform of the RxDecom.
This platform is the footplate. We will help you stand on this platform and help you lean back against the therapy bed. Believe us; there will be tiny if any physical demands placed on you. So, even if you are in severe pain, getting on and off the RxDecom is easy and painless. The therapist then lowers the bed into appropriate position. Once the bed is in a horizontal position, your therapist will start to prepare the device for therapy. The RxDecom cervical decompression therapy places no demands on the patient. You don't even have to lie down on the device, it does it all for you.
Treatments are relaxing to the point where the vast majority of patients fall asleep. If you ever experience even the slighted discomfort inform us and we will take care of it immediately. We are firm believers in the therapy program that is pain-free and relaxing. The no pain no gain is an outdated thinking. We believe that there is much to gain when there is no PAIN. Thus, we hold a No Pain, More Gain attitude towards patient recovery. This is why none of our treatments are painful. We will not do a procedure that causes pain or discomfort and this rule of ours also applies to the cervical decompression therapy as rendered by the RxDecom.
Our chiropractic centers specialize in the non-surgical and safe Spine, Joint and Sports Injury Treatments.
Lumbar Decompression Therapy
There are many forms of spinal decompression therapy and treatments. Most of the advertised forms of spinal decompression are in fact nothing more than fancy traction machines with no intelligence and without onboard monitoring systems. In reality, these are not spinal decompression, but rather a spinal traction.
In our centers, the spinal decompression therapy unit is one of kind and possibly the most advanced form of spinal decompression therapy in the world. The RxDecom is a highly advanced therapeutic modality that has interrogated systems for patient monitoring. This system of patient monitoring is accomplished through the essential components of the RxDecom's software known as the TMS. The TMS is specific for the RxDecom® and has two components, the essential and non-essential. The essential component is where patient monitoring is accomplished.

RxDecom for Neck and Back Pain
The patient monitoring systems of the RxDecom® enables us to offer our neck or back pain patients a safe and effective alternative to surgery. This monitoring system put the RxDecom in a class by itself. Spinal decompression in our centers is not a stand-alone procedure, it is further improved upon by additional procedures that are rendered through our skillful physiotherapists and research-based doctors of chiropractic. So, we have taken one of the best therapy units in the world and combined its' benefits by focused physiotherapy and specialized chiropractic procedures.
In our centers, when you get spinal decompression therapy, you may also receive treatments from physiotherapists and chiropractors. This collaborative method of care is the reason why we succeed when others fail. Spinal decompression of the lumbar spine is effective only when performed in a clinical setting where all involved in your treatments are thoroughly versed in the methods. Unlike traction, electrical stimulation or ultrasound, a true spinal decompression takes talent and knowledge.
The Knowledgeable Clinical Team
A good example we give a patient is that anyone can learn to drive a car but to drive a race care you need a special set of skills and knowledge. The same is true here. This was the reason why we spend so much time on making sure that all our staff has the skills needed. In addition to specific qualities, we require all our clinical staff to learn, practice and research on a continuous basis for the sake of our patients. Therapy is always good, but getting therapy from an expert, a knowledgeable clinical team is what makes the difference, especially with cases that involve a spinal disc or spinal nerve.
Chiropractic Specialty Centers are set-up specifically for the spine, joint and sports injuries. We do not dap into other areas. We are a focused care providers for musculoskeletal injuries and problems. It is this focused method of care that is rendered by a collaborative team of clinical physiotherapists back by research-based doctors of chiropractic.
In short, if you suffer from back pain. If you have been told to live with the pain. If you have been told that the only way to get you better is to cut you open, surgery. Then call us, we may just have the systems and methods you need to get better. Our method of spinal decompression therapy is second to none. This is because of our technology (the RxDecom) backed by our expert non-surgical team.