Our Expert Clinical Chiropractic and Physiotherapy Training Makes us Better Than the Rest 
Chiropractors and physiotherapists training is mandatory for all of our physiotherapists and chiropractors in Malaysia. Our Chiropractors and physiotherapists training is through lectures, practical hands-on training and technical and research-based treating sessions. Training usually lasts for 4-8 weeks. We are not aware of any other center or clinic that has an intensive training program as we do. Hence, when you visit one our-our center, rest assured, our clinical team has the skills, and knowledge to create even the most severe condition.
The video is showing our Chiropractors and Physiotherapists Training session.Training is at the very core of our business. Science is changing by leaps and bounds. The fields of the spine and joint care is changing at a speed of light. Research is continuously increasing the rates of non-surgical intervention. In our centers, we hold a regular training session for all employees to ensure that they stay informed of the new literature as published in the medical journals.
Physiotherapy has been around for over approximately 140 years. Chiropractic started in 1895. Both of these professions have their share of good and bad practitioners. The training and continued self-improvements are what sets the good apart from the bad. At Chiropractic Specialty Center, we hold regular training and educational courses for all our clinical staff. We do this to serve our patients better.
Dr. Yama Zafer, our director, and founder explains the difference between the good and the bad. Dr. Zafer, a US Board Certified Doctor of Chiropractic, he relates these differences in one of our in-house training and education seminars.
Our Chiropractors and Physiotherapists Training enables us to treat you Better.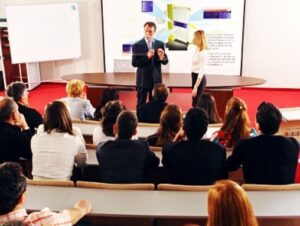 Training of our clinical staff has resulted in success where others have failed. When you visit a Chiropractic Specialty Center, you can rest assured that the care you get is world class. We make sure of it. We hold regular training and drill session to improve every aspect of neck pain treatment, back pain treatment, slip-disc treatment and joint condition.
Our Chiropractors and Physiotherapists Training course is a great example of how serious we are about knowledge.
The chiropractors and physiotherapists of a Chiropractic Specialty Center are the experts of Spine, Joint and Sports injuries. Our methods of treatment for a slipped disc are better and more efficient than any other center in town. Don't just take our word for it, experience the treatment, skills, and knowledge of our team and compare us to others.
We hold regular training for all our clinical staff. Through these courses, we have been able to harness their skills and knowledge to a level exceeding world-class standards. And then, we provided them with advanced spinal decompression technology that others does not have. The combined clinical knowledge enhances skills, and advanced technology is our secret weapon against pain. If you are in pain, we can help.
Please watch the video, and if you like to see more videos like these, please subscribe to our channel. We are the to go to Spine, Joint & Sports Injury Treatment.