What Makes our Chiropractic Treatment Better Than others?
The best chiropractic treatment in one where it addresses all your issues in a comprehensive manner. In other words, it wet you better faster than other forms of treatments. In our center, the chiropractic care you get is the most comprehensive of all conservative treatment. We follow the American system of Chiropractic treatment. The American system offers the best chiropractic treatment methods as it incorporates physiotherapy into chiropractic care. In fact, for a Doctor of Chiropractic to obtain licensure in the United States of America he or she must successfully pass the Physiotherapy certification and testing processes as conducted through the national boards. In short, chiropractic and physiotherapy are intertwined and inseparable from the American methods of Chiropractic Treatment.
Are You Looking for the Best Teams of Chiros and Physios in Malaysia?
Our Chiros and Physios are the ones you need If you are in pain.  The level of expertise, skills, and knowledge our clinical teams of Chiros and Physio surpass others. So, if you sufferer or one who has scoliosis, neck pain, back pain or a sports injury, you have come to the right place. Chiropractic Specialty Center® is the premier spine, joint, slipped disc, scoliosis, and sports injury treatment center in Malaysia. Best of all, the care you receive from us is non-surgical and non-invasive. Contact our center today for the best chiropractic treatment in Malaysia.
In short, our Chiros and Physios are the perfect non-surgical caregivers. Call our center if you are injured or in need of chiropractic or physiotherapy treatment.  There is none better suited or better equipped in the non-surgical treatment methods of the spine and joints. Chiropractic Specialty Center® is the go-to chiropractic and physiotherapy center in Malaysia.
Chiropractic Specialty Center® offers the same gold standard world-class physiotherapy, chiropractic, rehabilitation, and customer service to all patients. Our staff's commitment to the health and wellness of those who seek our help is unmatched. We pride ourselves on our ability to provide you with a precise diagnosis and targeted treatments that fix the cause of your pain rather than cover the symptoms. Our individualized attention to the smallest detail is the reason for our clinical successes when others fail.
Opt for Treatment by our Colbortiive Chiropractors and Physiotherapists
Our goal is to help you achieve well-being without the need for drugs, injections, or surgery. We proudly serve Malaysians from all walks of life in their pursuit of a healthy, active life. We have some of the best chiropractors in Malaysia. They care they provide is collaboratively given with our clinical physiotherapists. Look for our centers for better chiropractic and physiotherapy treatments. Our goal is to get you healthy as quickly as possible. Below we provided you a list of our centers in the Klang Valley:
Conditions Treated by our Spine and Joint Experts:
Unlike others, we are a complete physiotherapy, chiropractic, and rehabilitation center for non-invasive treatments of slipped discs, scoliosis, sports injuries, and pinched nerves. In other words, we provide advanced physiotherapy coupled with best chiropractic treatment. For your review, we have provided below a brief list of conditions commonly treated in our centers:
Shoulder Pain (Frozen Shoulders, Bursitis, and Shoulder Injuries)
Elbow Pain (Tennis Elbow and Golfer Elbow, Bursitis or Tendinitis of Elbow)
Wrist Pain (Carpal Tunnel Syndrome, Tenosynovitis, Numbness and Tingling in the Wrist or Hands)
Knee Pain (ACL Tears, PCL Tears, Meniscal Tears, Post-Surgical Knee Pain, Arthritic and Degenerative Knees)
Foot Pain (Ankle Pain, Achilles Tendon Ruptures, Tarsal Tunnel Syndrome, Plantar Fasciitis, Numbness and Tingling in Foot or Ankle)
Scoliosis (Rotatory Scoliosis, Double Scoliosis, Congenital Scoliosis, Adult Scoliosis, Adolescent Scoliosis, and Degenerative Scoliosis))
Slipped disc (Slip-Disc, Degenerated Disc, Bulging Disc, Herniated Disc, Prolapsed Disc or Protruded Disc, Extruded Disc, and Fragmented Disc)
Pain in the Spine (Sciatica, Radiculopathy, Sacroiliac Dysfunction, Facet Pain, Arthritis of Spine, Neck Pain, Upper Back Pain, Low Back Pain, Tailbone Pain (Coxxydania), Spondylosis, Spondylolisthesis, Modic Changes, Hypertrophy of Ligamentum Flavum, and MUCH MORE)
Work Injuries
Myofascial/Muscle Pain
Shingles/Post-Herpetic Neuralgia
Occipital Neuralgia
Arthritis
Post-Surgical Pain
Fibromyalgia
Neuropathic (Nerve) Pain
Epicondylitis
De Quervain's
The secrets to our clinical success are our skills, knowledge, diagnostic abilities, and of course, our breakthrough technology.
Regardless of the type of spine and joint condition, we have the experience and skills to customize a specific therapy program that meets your therapeutic need for corrections. Our clinical team of Chiros and Physios understand the complexities of the spine and joint pain or injuries. We take great pride in our understanding of the various non-surgical methods available. In short, if you want research-based clinical treatments, call us. We are ready to serve you today.
Why would I need a chiropractor?
The profession of chiropractics emerged in 1895 to fulfill the non-surgical field of spine and joint care. To date, chiropractors have fulfilled this need through cause-specific treatments that restore function without medications, injections, or surgery. Chiropractors focus on muscles, ligaments, joints, spinal discs, nerves, and the nervous system as a whole. The chiropractic profession is the first and only profession that offers a holistic neuro-musculoskeletal approach to health and well-being.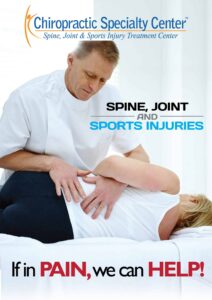 In addition to chiropractic treatment, the Chiros and Physios of Chiropractic Specialty Centers offer integrative solutions through clinical physiotherapy. Our centers offer you the best of integrative non-operative solutions. Our approach has dramatically improved the lives of the thousands we have treated in Malaysia. Get treated by the best chiropractic treatment in town today.
Do I Need Physiotherapy?
Physiotherapy is concerned with helping patients to recover from injuries and pain. There are two main groups in this profession: those who offer pre- or post-surgical physiotherapy treatments and those who provide physiotherapy care as an alternative to surgery.
The vast majority of physiotherapists working in surgical settings are more inclined to offer therapy for those scheduled for surgery or those who have had surgical interventions. Their attention, focus, and training are all encompassed by surgical interventions. Therefore, if you want a non-surgical solution or need alternatives to surgical intervention, visit physiotherapists who specialize in providing therapy as an alternative to surgery. So, if you are in pain and wish to recover without surgery, visit physiotherapists in non-surgical settings. At our center, you will get clinical physiotherapy combined with the best chiropractic treatment. In short, our collaborative spine and joint care are better than the singular efforts of others.
Our physiotherapists' primary focus is to make you better without surgery. Using their equipment, therapeutic knowledge, and skills, they provide the best alternative to surgery or invasive procedures. The combined clinical efforts of expert physiotherapists and chiropractors are your best hope of recovery without surgery. 
Why should you opt for our Collaborative Spine and Joint Treatments?
The answer to this question is obvious. You need a healthy body to live an active, productive, and satisfying life. It is that simple. Our collaborative spine and joint experts target and correct the causes of pain, injuries, and malfunction. The corrective care they provide will help you recover without medication or injections.
Medication is not the answer. Otherwise, the healthiest people would be those who take the most medication, but in fact, the more medication you take, the sicker you become. Doctors may have to prescribe medications to counteract the side effects of other medication. This outdated, harmful treatment of spine and joint care needs to stop. Our collaborative spine and joint care experts provide corrective care without deadly side effects. Let our clinical team treat you today, naturally, through our integrative methods and breakthrough technology as provided by the best Chiros and Physios. To conclude, call us if you want the best chiropractic treatment in Malaysia.