Chiropractic treatments and Posture Corrections

Posture Corrections and Chiropractic Treatments
Bad posture has always been the factor for many of our daily problems which we often overlook. The lack of postural awareness has caused many of us to suffer from back and neck pain, and if left untreated, it can also lead to problems like shoulder impingement and knee pain. This is a condition that our physiotherapists and chiropractors take very seriously. For the best posture corrections and chiropractic treatments in Malaysia call one of our centers near you today.
Chronic pain especially back pain is the leading cause of high medical expenses and absenteeism. It also interferes with quality of life and works performance. Thus, a good posture is crucial in preventing injuries and protecting our joints.
So how do we define POSTURE? Posture is the way we sit, stand and even walk. It also refers to the position that our body holds throughout the day.
In this fast-paced developing world, most of the people often reach for their computer mouse for their daily routine, particularly at their workplace. They often shrug their shoulders forward, and their arms are not in a neutral position. This hunched position can eventually lead to postural problems which put our joints, muscle and other structures in PAIN. Don't let poor posture cause health issues. Visit one of our centers for targeted posture corrections and specialized chiropractic treatments before serious health problems arise. Our clinical teams can help you towards a healthier more active life. 
Apart from that, postural problems in other parts of the body can also occur when a particular part of our body is in pain.
To compensate for the pain, we're feeling. Naturally, we would walk, stand or sit differently to help ease the affected part. For example, when we sprain our left ankle, we bear more weight on the right ankle and our torso shifts towards the right side as well to minimize weight bearing on the left side. This compensated posture can cause more muscle imbalance, in the long run, leading to more pain and disability.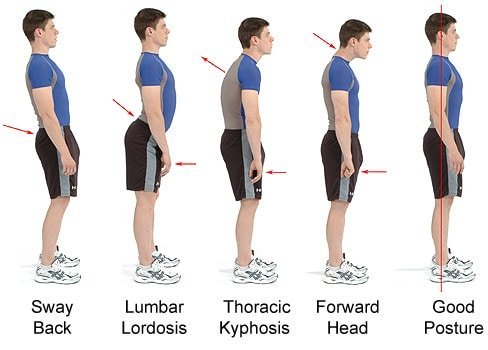 Are you suffering from pain due to long hours of work? Do you notice any problem with your posture? Our clinical team of physiotherapists and chiropractors can help you. They are the ideal team to evaluate and perform posture corrections and chiropractic treatments for a healthier more active life. So, if you live in Petaling Jaya, Kuala Lumpur, Shah Alam or Bangi, we have a center near you. For patients suffering from chronic pain, our primary objective is to reduce the pain. When the pain level is reduced, we then focus on restoring functions of the compensated muscles. Some of the muscle might have shortened causing tightness or weakness in that area.
You should get your posture corrected before it causes pain.
Poor posture is a leading cause of pain as it damages the sensitive nerves, muscle, and ligaments. Neglect could lead to premature wear and tear. So, even if you don't have pain, we can help correct your posture. You will start to look better, feel more confident and of course, avoid any future pain. Don't let poor posture be the cause of your pain or even disability. Let us help you live a well-balanced life!
Postural problems are prevalent among people all walks of life, and we are here to help you. With the right treatment plan incorporating both physiotherapy and chiropractic, you can stand, walk, sit comfortably and enjoy the best moments of your life. Call or visit us today for a posture corrections and chiropractic treatments today.